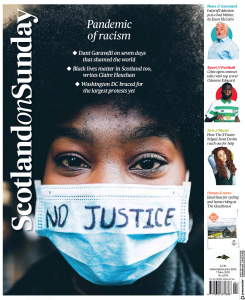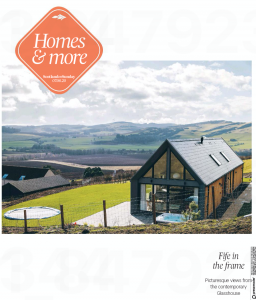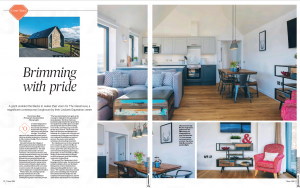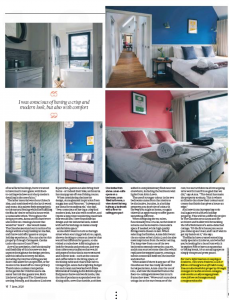 Words: Fiona Reid
Photography: Suzanne Black Photography
Newspaper: Scotland on Sunday
Date: 7th June 2020
Cover Story Title: A grant enabled the Blacks to realise their vision for The Glasshouse, a magnificent contemporary longhouse by their Lindores Equestrian centre.
"One of the things about holidays is that you want to stay somewhere that's better than your own home, and that has an edge." Anna Black says as she discusses the vision behind the three holiday properties at Lindores in Fife.  Lindores Lodge, The Arches and The Glasshouse.
Situated between the villages of Newburgh and Lindores, Braeside of Lindores Farm is managed by Anna and her husband Richard – the third generation of his family to live and work here.  Over the years the farm had already diversified with a very successful equestrian business – Awarded Equestrian Business of the Year 2019 at the national HorseScotland awards, and as well as stables and an Olympic sized outdoor arena, Lindores offers an 85 acre cross country course with enough variety to cater to beginners or experienced riders.
With a vision for creating a special holiday destination here, the Blacks applied for a Scottish Rural Development grant to start the process.  "That was instrumental as it gave us the courage to really go for this grand plan," Anna explains.
The three-bedroom Lindores Lodge was the first property to be completed and offers generous open-plan living with tall windows soaking in the view, and with a large enclosed garden and hot tub.  The Arches came next, and this space was designed as a hideaway for couples, with a vibrant and contemporary living space and kitchen, and a bespoke Scandinavian-inspired sauna in the master suite upstairs.
The Glasshouse was the third property to be completed, and here the Blacks have created a striking contemporary house, again with open living at its core, and with extensive glazing drawing in those views.  Architect Ian Muir of Muir Walker & Pride worked with the Blacks on all three houses, as did the building contractor Gradual Peak on two of them.
"We wanted The Glasshouse to be in keeping with the Lodge, but also because we had confidence from our feedback from guests, we were excited about doing something different here," says Anna. "We wanted to build from scratch and create something that would last.  The Glasshouse was designed in the tradition of Scottish longhouses, and we used timber and stone to be reminiscent of local farm buildings, but we wanted to have much more glass, with floor-to-ceiling windows and sharp modern detailing in the use of zinc."
The latter material was the architect's idea, and combined with the larch wood and stone, this palette feels sympathetic to this natural setting while also fulfilling the Black's desire to build a house with a sustainable ethos.  Throughout the design process, Anna and Richard were also intent on creating a house that would be "more" – that would make The Glasshouse stand out in terms of its design within a busy holiday let market, and that would offer guests a unique holiday experience.
As well as aesthetics, the functionality and flexibility of this house were key aspects throughout the design process, and this influenced every decision, including the internal sliding pocket doors that allow for an open feel, or for rooms to be closed off to create privacy.
There's also a sunken trampoline in the garden for children and a six seater hot tub that guests love.  Both Lindores Lodge and The Glasshouse are dog-friendly, and thanks to Lindores Equestrian, guests can also bring their horse – or indeed their bike, as this area has many great off-road biking routes.
When considering the interior design, Anna gleaned inspiration from magazines and Pinterest. "I always pull out ideas for moodboards," she says.  "I was conscious of having a crisp and modern look, but also with comfort, and I spent a long time considering materials that would last.  I love Scandinavian design and the industrial look, mixed with soft furnishings to make a really comfortable space."
Anna didn't want to turn to the high street when sourcing products as, again, she was looking to create an interior that would feel different for guests, so she visited a a trade show in Birmingham to look for brands and products, and was then able to source pieces that would add pops of colour and a more textured and eclectic look – such as the console and coffee table in the living space, or the dining table and chairs that have a vintage style.
Anna had a lighting budget for each room and worked with Dixie Mirowski of Catalog Ltd in Edinburgh to find pieces that would work inside, like the trio of pendants suspended over the dining table, as well as outside, and then added in complimentary finds sourced elsewhere, including the bedroom wall lights from John Lewis.
The use of stronger colour in the two bedrooms came from that desire to be distinctive, but also, in a holiday property, you don't tire of colour in the way you might at home, so again this was an opportunity to offer guests something different.
When designing the en-suites, functionality was crucial, so the shower screens can be moved to create extra space if needed, while high quality fittings were chosen to last.  When selecting the finishes, Anna didn't want the en-suites to feel clinical, and she also took inspiration from the wider setting.  The long view from one of the two bathrooms extends towards a quarry, and Anna sourced stone tiles that would replicate the stepped quarry, creating a subtle connection between the interior and exterior.
When asked if there are any part of The Glasshouse that has really exceeded her expectations, Anna cites the use of zinc, and how the material frames the floor-to-ceiling windows that in turn frame the views.  "We weren't sure about using zinc at the start because of the cost, but our architect said it was going to be worth it and I'm so glad that we did," says Anna. "This detail has made the property so sharp.  This is where architects can show their colours create that finish that gives a house an edge."
And now Anna is preparing to do it all again with a fourth holiday property.  This will be a different project to The Glasshouse as Anna and the architect and builder will be tackling the refurbishment of a semi-detached cottage.  "It's the first house you see as you come up our road, and I can't wait to get my hands on it," she says.
The Blacks have created something really special at Lindores, and whether you're looking for a base from which to explore Fife or have an equestrian or biking break, it's an amazing spot to simply escape and press pause.
– END –
Check availability: www.lindores.co.uk/book-now/
Join our VIP Waiting List: www.lindores.co.uk/vip-waiting-list/