Sit back, relax and enjoy…
Are you organising a birthday party, anniversary celebration, family get together or corporate team day out?  The Hide is a unique option worth considering.
Groups of 4 – 10 guests find The Hide space comfortable and atmospheric.  
We shall greet you at our farm and drive you up Lindores Hill in our 4 x 4 Land Rover.  Guests are welcome to drive their 4 x 4 as well to this off-grid location. 
Reaching the crest of the hill you're greeted with panoramic countryside views.  
Inside the bespoke wooden cabin guests can choose to sit inside or outside to eat.  Many are encapsulated by the cosy fire centrepiece.  We work with a select few chef's to create unique lunches.  Professional Chef Neil Clark who trained with Gary Rhodes and is an acomplished chef. He features regularly to host guests.  Chef Neil crafted the Summer and Winter example menu's below.  We're passionate about using seasonal and local ingredients.  
Guests are welcome to wander outside The Hide to make the most of the breathtaking views and Scottish countryside scenes, or stay cosy inside around the fire. There isn't anyone else around… just you! 
Let us help you make unforgettable memories.  Get in touch to enquire.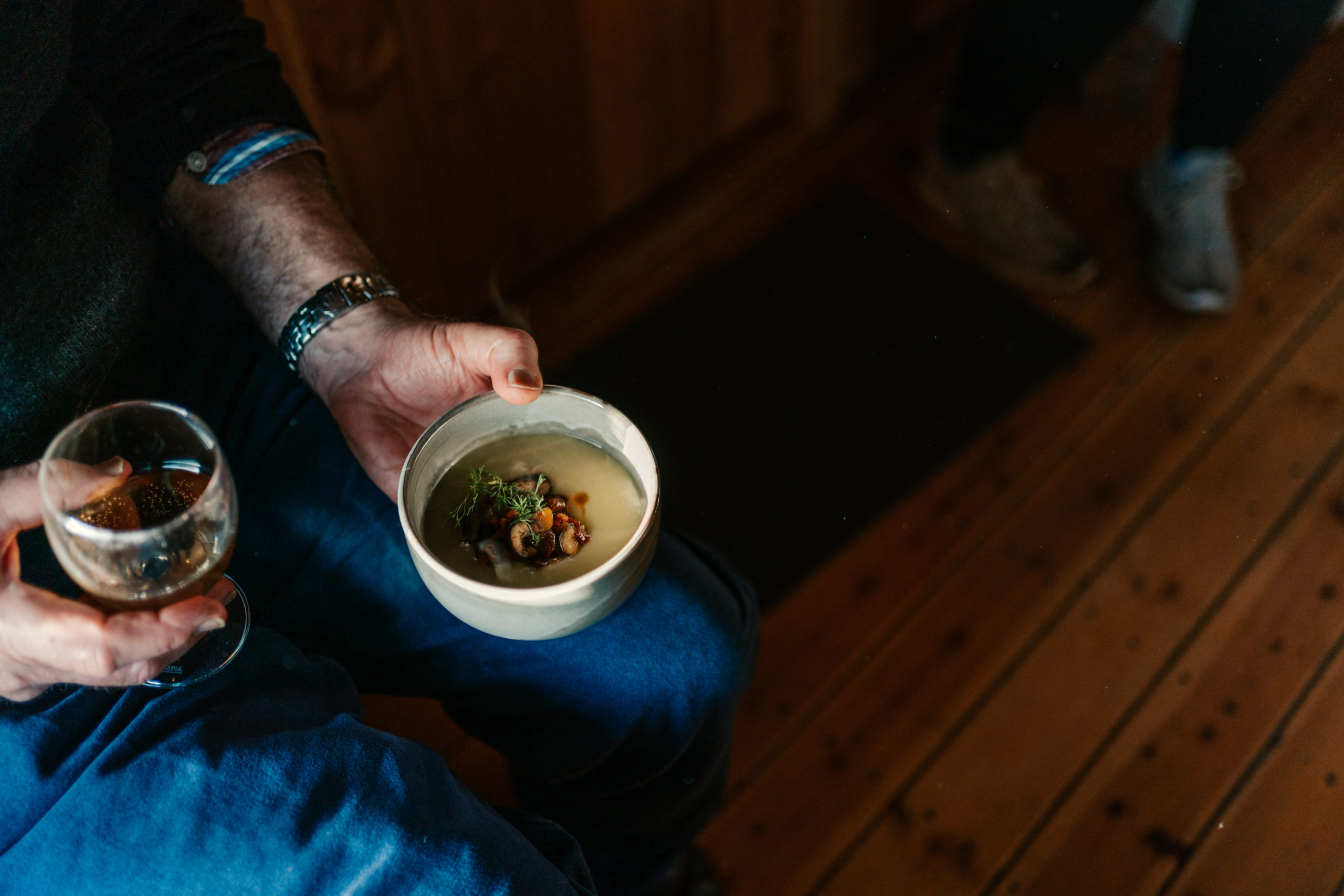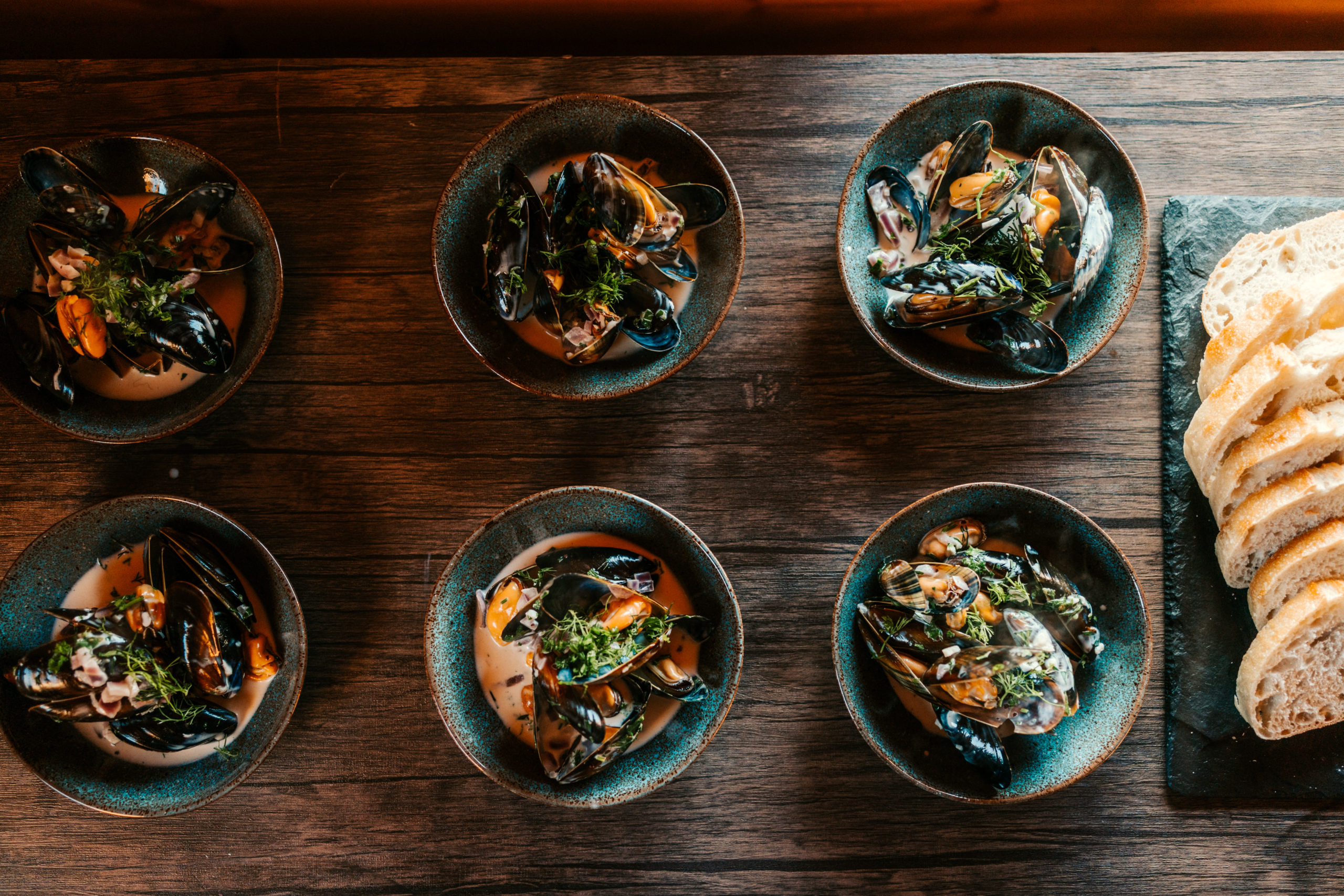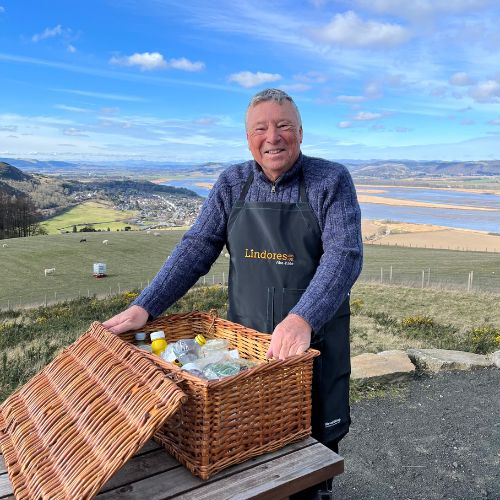 Create Your Own Lunch
Prices start from £37.50pp
Guests who would like to lunch in The Hide but without a private chef are welcome.
Chef Andrew Wilkie has crafted delicious 'do it yourself' (DIY) lunch menu's which can be prepared and ready for your arrival.
Alternatively, you can simply bring your own food and drink.
Here's how it works:
Hire The Hide and bring your own food. We will supply all the amenities such as crockery, glasses, boiling water, BBQ utensils, ice, music system etc.  It's fun cooking on the open fire together.
Option two and the most popular 'do it yourself' option is to select delicious meals from our Pick & Mix Menu.  This Menu is prepared for you by Professional Chef Andrew Wilkie and delivered to The Hide ahead of your arrival.
Both 'do it yourself' options include exclusive hire of the venue and 4×4 Land Rover transport from the farm up to The Hide.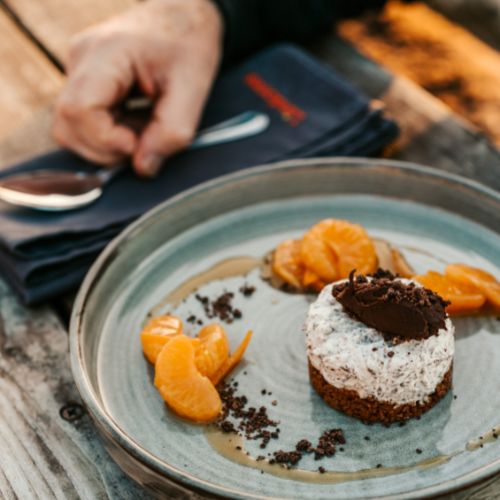 Summer Lunch - Example Menu
A bespoke menu prepared and cooked for you at The Hide with your own private chef on site.
Water of Life Salmon Skewers
Aqua Vitae Cured Scottish Salmon Skewers, Lemon Zest and Honey Dressing with Black and White Sesame Seeds & Chilli Flakes
Pittenweem Langoustines
Pittenweem Langoustines Marinated in Lime Zest, Coriander, Smoked Paprika, Dill & Butter
Beef Rib Eye Steak 
Chargrilled Rib Eye Steak, Red Wine, Tarragon, Mushroom Sauce with Caremelized Onion & Rosemary Compote
Salads & Sides
Roasted Butternut Squash, Rocket, Mixed Salad Leaves, Carrot, Beetroot Salad, Red Cabbage, Fennel, Radish Slaw & Balsamic Dressing
Guacamole Crushed Potato & Chive Salad
All Salads Accommpanied by Honey Mustard Dressing
Panna Cotta Dessert 
Sole Gin, Milk Chocolate Panna Cotta with White Chocolate Crumb, Pittenweem Strawberries & Shortbread Biscuits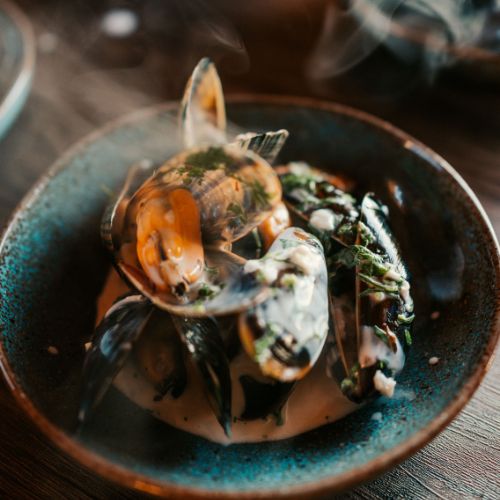 Winter Lunch - Example Menu
A bespoke menu prepared and cooked for you at The Hide with your own private chef on site.
Pre Starter – A Warm Welcome to The Hide 
Broccoli & Brussel Sprout Soup, Crispy Bacon, Roasted Chestnuts
Starter 
King Scallops in the Shell, Lime, Chilli, Herb Butter
Main Course Sharing Platter 
Ribeye Steak, Aqua Vitae, Wholegrain Mustard Sauce
Roasted Butternut Squash, Red Cabbage, Carrot, Beetroot, Pomegranate Salad
Honey, Balsamic, Beetroot, Feta Cheese
Creme Fraiche, Lemon Zest, Dill, Crushed Baby Potatoes
Dessert 
Rich Chocolate Brownie, Cranberry & Orange Compote, White Chocolate Crumb, Salted Caramel Sauce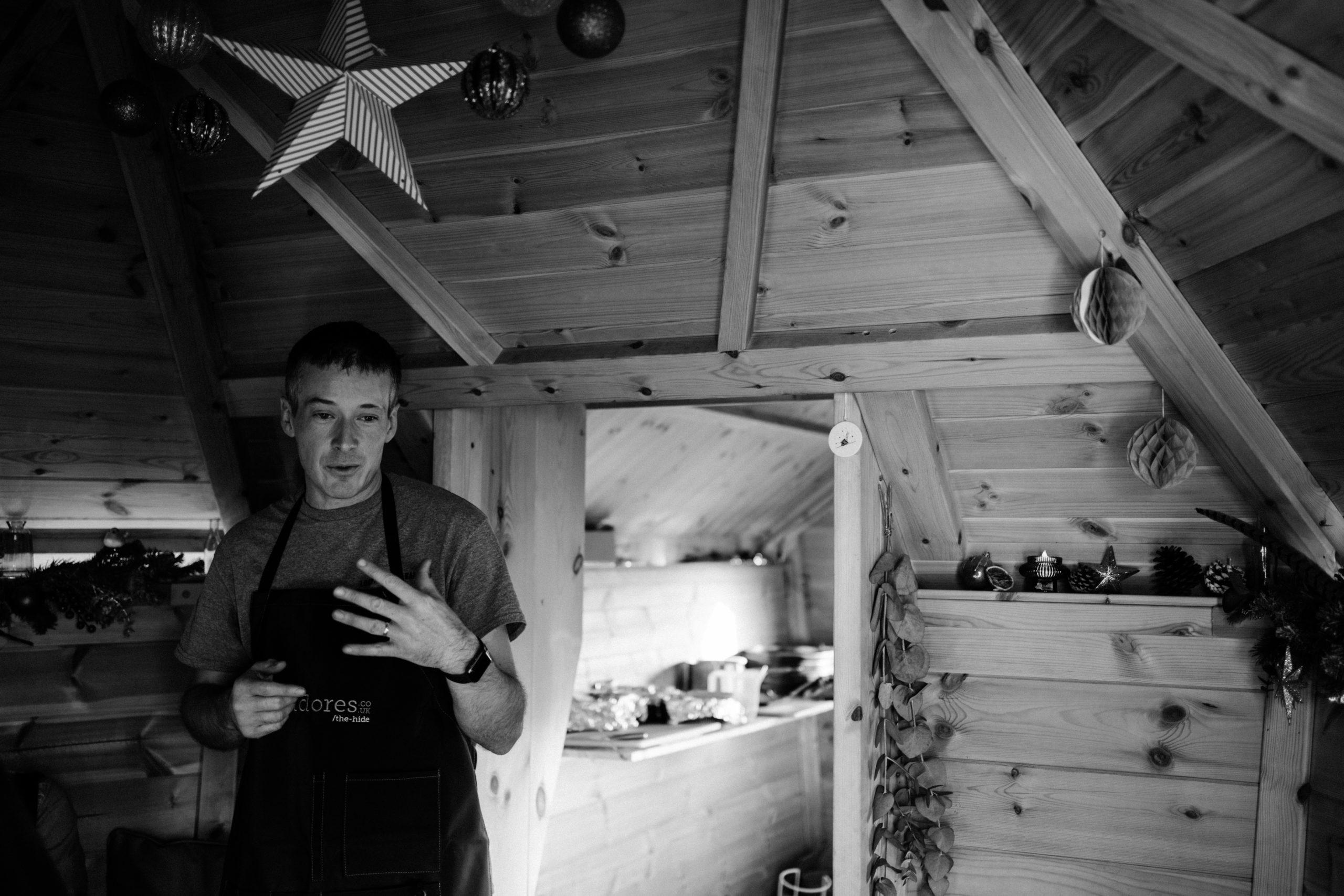 Chef Neil Clarke has a passion for fine Scottish food, in particular seafood and game. He was previously head chef at the Seafood Restaurant, St Andrews and sous chef on the Royal Scotsman Train.
Location:
The Hide is an off grid venue located at Braeside of Lindores, Newburgh, Fife, KY14 6HU.  There is ample space for helicopters landing or 4×4 transport to the venue.  The location is an award winning diversified farm owned by The Black family for 3 generations.
The farm is a special landscape area, steeped in Scottish history.  William Wallace fought the Battle of Blackearnside and defeated the English just a stone throw away. There is a bespoke off grid waterless toilet at the venue, hand crafted with one way glass allowing guests to enjoy the view from the loo.
Transport
Guests can travel by road or helicopter to Lindores.  
If travelling by road, guests are invited to park at the family farm on arrival. From there, your personal 4×4 Landrover (5 seater) will chauffeur you and your guests off road up Lindores Hill to The Hide.
Once you have enjoyed your experience at The Hide, we will chauffeur you down to your vehicles, or you are very welcome to take a leisurely stroll back down.