Stay At The Open
The Open week 10 – 17th July 2022 – Accommodation available at Lindores – 25 minute drive from St Andrews. 
The Glasshouse – sleeps 4+2
West Cottage – sleeps 4+2
The Arches – sleeps 2
The Farmhouse Private Home – sleeps up to 10
The Farmhouse is only available to rent exclusively for The Open guests.  The estate house has 17 rooms, can sleep up to 10 people, offers the option of breakfast catering, plenty of space, beautiful countryside views, parking and helicopter pads. Email anna@lindores.co.uk to enquire and get access to this private homes images.
Golf in St Andrews, golf in Gleneagles or anywhere in between! The Kingdom of Fife has 50 golf courses so you're spoilt for choice staying at Lindores. We have handpicked a few and click on their links for more information. 
Ladybank Golf Club – our closest Championship course. This is a wonderful 18-hole course set amongst trees and well-kept greens. Visitors are welcome and rules apply. 7 miles from Lindores.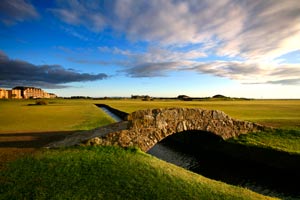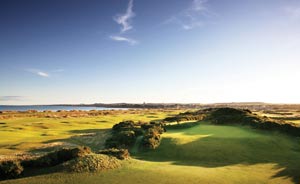 St Andrews Links
is the Home of Golf. Now with seven golf courses to suit all ages and abilities, the New (1895) and Jubilee (1897) and Castle (2008) offer the greatest challenge on the famous links whilst the Eden (1914), Strathtyrum (1993) and Balgove (1992) offer a friendlier introduction to the Links. All of these courses can be booked by online or by phone. The oldest and most iconic golf course however is the Old Course (1400's). There a number of ways to book a tee time if you have a suitable handicap (24 for men and 36 for women).
The first way is to apply through the Advanced Reservations process at the start of September for play the following year. The second, and most common way, is to enter the Ballot which is drawn 48 hours in advance. Thirdly, Single Golfers can approach the Starter on the day they wish to play and he will try to slot them in with groups going out that day.
Finally, guaranteed premium tee times can be purchased from the Old Course Experience. 18 miles away.
Images supplied by The Links Trust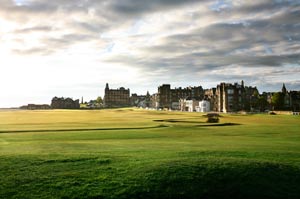 Kingarrock Hickory Golf – Experience golf how used to be played in 1904 at Kingarrock Hickory Golf. This fun and unique 9-hole course is for any standard of golfer open Easter to October. Don't take your irons because you're supplied with old wooden clubs. Set on the Hill of Tarvit mansion house grounds run by The National Trust for Scotland – a unique hidden gem. 12 miles away.
There are 50 golf courses in Fife