You are spoilt for choice! If you don't feel like cooking in your accommodation we've selected North Fife's best eateries and broken them down into restaurants, farm shops and pubs.
The Roost – 9 miles
Described by Marco Pierre White as 'Scotland's hidden gem', The Roost is an honest, quality driven fine dining restaurant that supports local producers and strives for faultless customer satisfaction. Enjoy lunch, dinner and fine wine.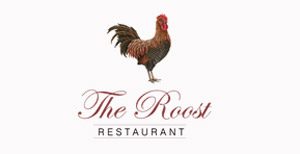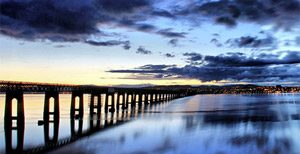 The View – 14 miles
Modern Scottish food featuring fresh local produce from a seasonally changing menu. The setting is spectacular with tables looking over the River Tay. 2013 Certificate of Excellence award winner. Enjoy lunch, dinner with children's menu. Fresh Coffee, Pastries and Breakfasts from 10am.
The Peat Inn – 15 miles
A beautiful Michelin star Scottish restaurant that focuses on delivering modern cooking based on the finest local and seasonal ingredients. Consistently one of the best restaurants in Scotland. 15 miles from Lindores Lodge. Enjoy lunch, dinner and a wine list with over 400 bins.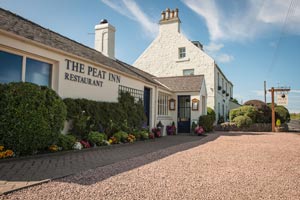 Lindores Abbey Distillery – 2 miles
Whisky and champagne afternoon tea's are delicious and hugely popular.  Served in the beautiful surroundings of the Legacy Bar, with its glorious views of Lindores Abbey and the river Tay beyond. They are a fantastic way to relax and eat delicious food locally during your stay.  Great destination to celebrate a special occasion such as an engagement or a birthday celebration. Read more about the Afternoon Tea's.
Rustic and funky venue with simple reliable meaty menu.  The building clings to its rustic past with walls of potato boxes and rough hewn communal tables made of wind blown beech from the estate. The steaks are hung on site for no less than 28 days.  Their onsite butchery creates delicious burgers and sausages that you can watch be cooked on the massive 

wood-fired BBQ

. Add twice fried chips, crispy beer battered onion rings, wine and local beer and enjoy. Complete the experience a little something sweet and perhaps a wee espresso.  Just turn up, no bookings taken 7 days a week. 
Nestled 
in a pretty close in Cupar, serving lunch and dinner this family run restaurant is reliable, tasty and has a fantastic specials board.  There is a great selection of local sourced food, relaxed dining and good value.  Choose from seafood, game, vegan and more. 
Thanks to chef/proprietor Hermann Schmid, a few Bavarian dishes (and beers) can also be enjoyed.
St Andrews
St Andrews offers a vast amount of choice for eating out during the day, at night, with family or without family. Whether you want Bistro's, Thai, Bangladeshi, Indian, Scottish, Seafood, French-Scottish, American there are a wealth of high standard eateries open all year round. 17miles away.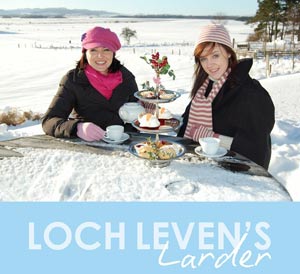 Loch Levens Larder – a family run farm, restaurant, deli and shop selling everything from carrots to cashmere. Great if your shopping for gifts with a twist, interested in local produce and walking after a tasty lunch. 13 miles away.
Balgove Larder – farm shop, butchery and café this is the biggest farm shop our of our shortlist and its grown in size because it's so good. Nominated in the Farm Shop and Deli Awards in the category for Best Farm Shop its worth popping into after a visit to St Andrews. 17 miles away.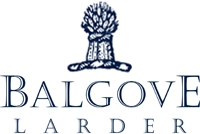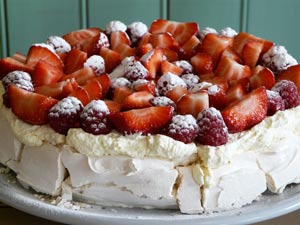 Gloagburn Farm Shop – best for homemade soups, sandwiches and home-baking. Enjoy lunch then visit the gift shop and deli to buy something tasty to make back at Lindores Lodge. 18 miles away.
Ardross Farm Shop – for food lovers. Farm Shop of the Year 2014 in the Farm Shop & Deli Awards. Family run shop stocking British artisan foods.  Ranging from traditionally reared beef to handmade ice cream and sorbet.  Open all year just a short drive from Elie beach at the East Neuk of Fife.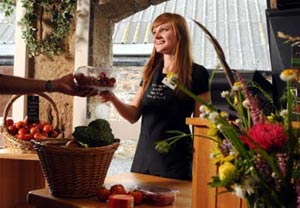 Pubs
Dog friendly pub The Stag in Falkland is nice after a walk in the Falkland woodlands.  It has traditional pub food, live music and local ales and a cosy warm atmosphere. 8 miles away
Our closest pub is The Abbey in Newburgh which can be quite lively and everyone and frequented by locals from the village. 2 miles away.
The Bear on Newburgh High Street has a Tuesday music night.  Friday sometimes has a Domino's tournament with prizes and the crowd in there are nice. 2 miles from Lindores.
Take Away
Sun Bo our nearest take away has a Chinese and traditional fish and chips menu. It is on the Newburgh High Street, 2 miles from Lindores.
Indian Kitchen offer delivery of traditional curries Thursday to Sunday evenings.
The Shehnai Indian Restaurant in Cupar offer pick up, or delivery if you order in advance and don't mind a wait. Cupar is a 15min drive.
Taxi's locally
Town & Country Taxis, Cupar 01334 840 444
A & J Taxis, Cupar 01334 654 049
Falkland Taxis, Cupar, 01337 857 485
Freuchie Taxis, Cupar, 01337 858722 or 07834 551509
Starfish Taxis (St Andrews) – 07790 021 000